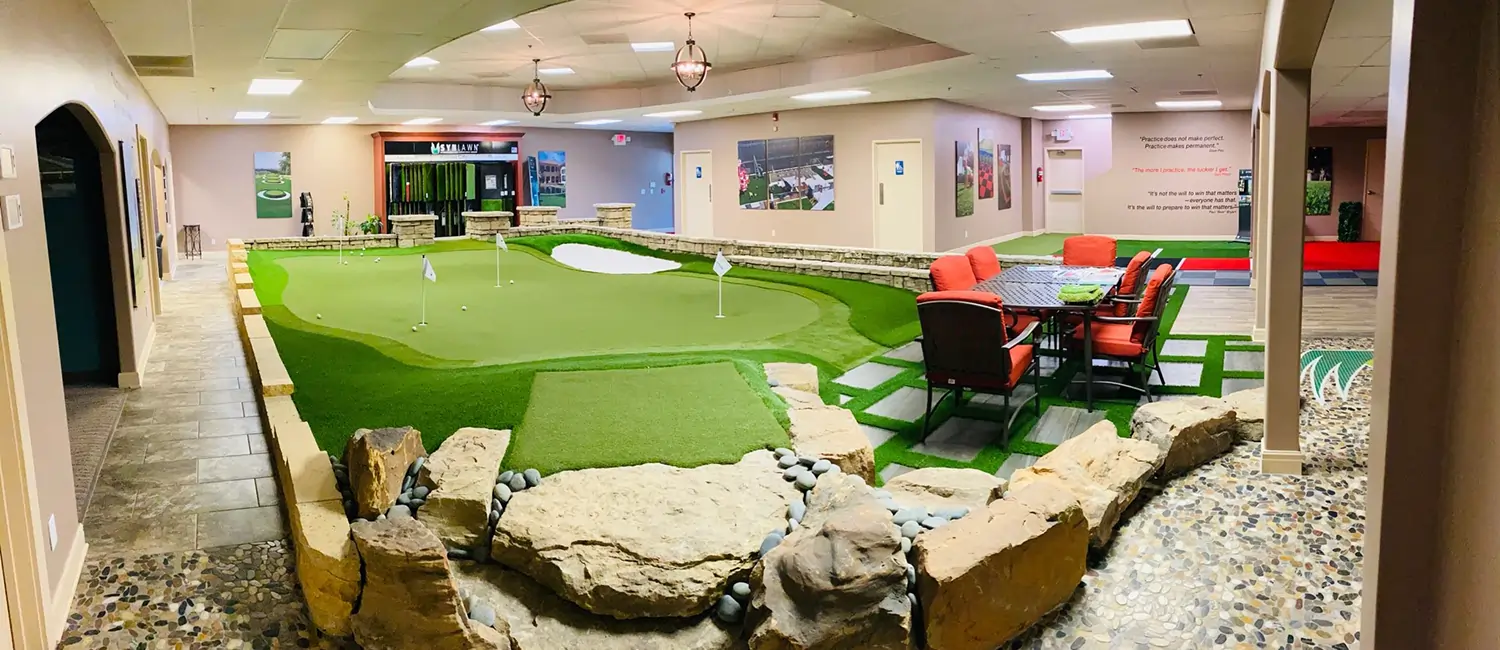 Orlando golf greens are the highest-quality and eco-friendly alternative to natural grass. SYNLawn, for more than 20 years, has innovated the industry with its state-of-the-art golf greens and become the number-one choice for golf enthusiasts. They are manufactured locally at our in-house facility in Dalton, GA. Here, we can quality control our turf from start to finish and ensure that it meets environmental standards. In addition, we work closely with the one and only Dave Pelz. Dave Pelz is a professional golf coach and former NASA physicist who understands the importance of utilizing the highest quality materials and precision to create an authentic golf experience.
Orlando golf greens are perfect for all ages and skill levels and are an incredible amenity to introduce to other commercial properties aside from golf courses. Our golf turf is known for its ability to eliminate traditional maintenance, conserve thousands of gallons of water, and substantially reduce the production of carbon. Say goodbye to mowing, watering, and reseeding. With SYNLawn, you save time and money on maintenance and spend more time improving your skills. The most that you will ever need is an occasional sweep with a leaf blower or artificial grass rake.
Exclusive benefits include, but are not limited to:
Realistic putt with natural slowing characteristics and highly accurate ball roll
Extremely tough surfaces that allow for chip shots
Converts underutilized areas into something more usable, fun, and interesting
Excellent for entertaining customers as well as teaching children
Made in the United States using the best quality artificial grass available
Add sand traps, tee lines, tee boxes, slopes, and other obstacles
One-inch-thick practice surfaces that allow you to use real golf tees
Professionally installed T-Strike lets you make a complete swing without grabbing the club head
T-Strike allows for the use of authentic golf tees
Effective drains in each cup prevent backfill of water and mold
Select from different turf options for your fairway, fringe, collar, and more
Customizable with obstacles to increasing the challenge
Additional LED cup lights are available
UV-stabilized yarns resist fading year-round
Backed by an unmatched lifetime warranty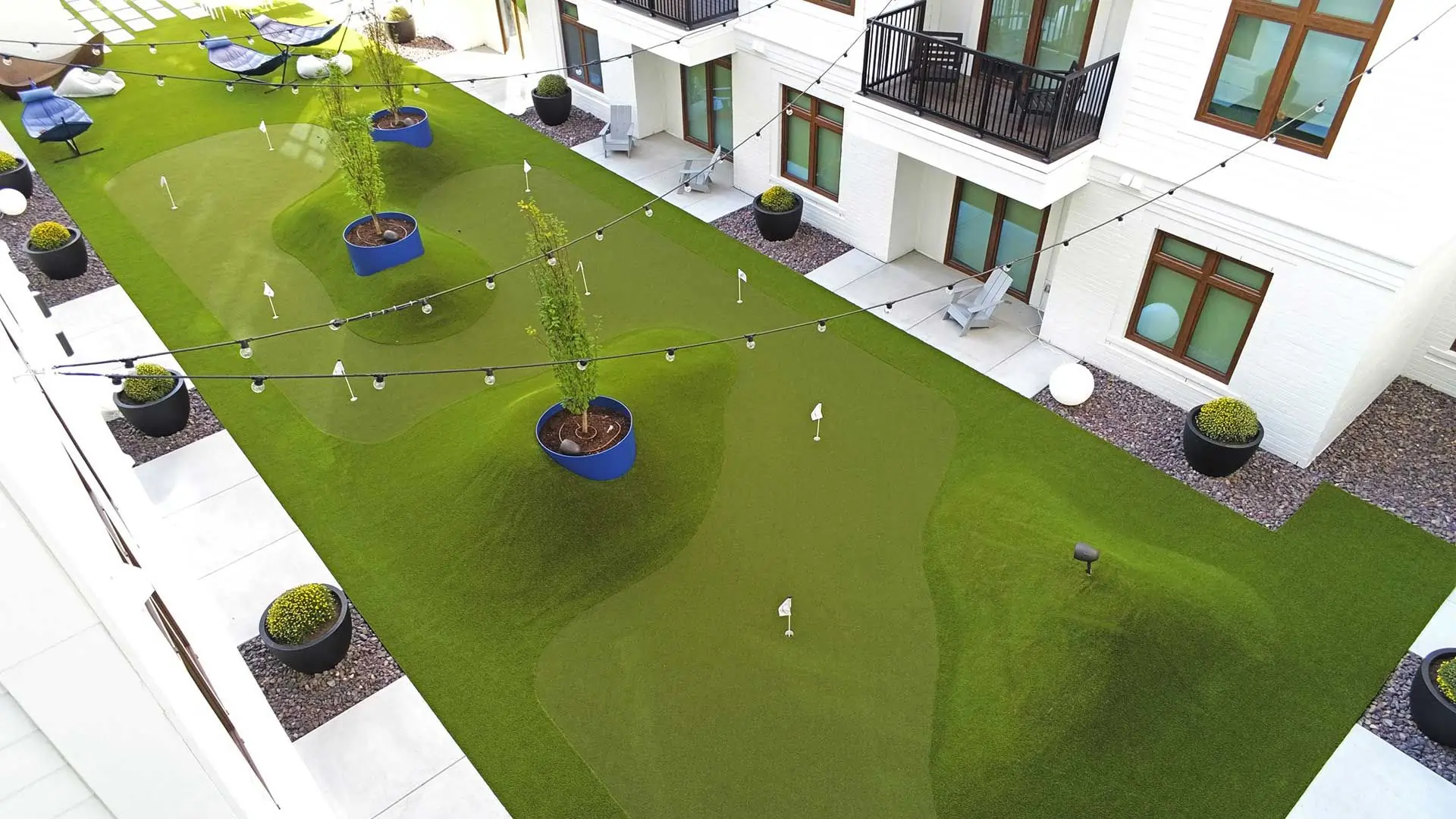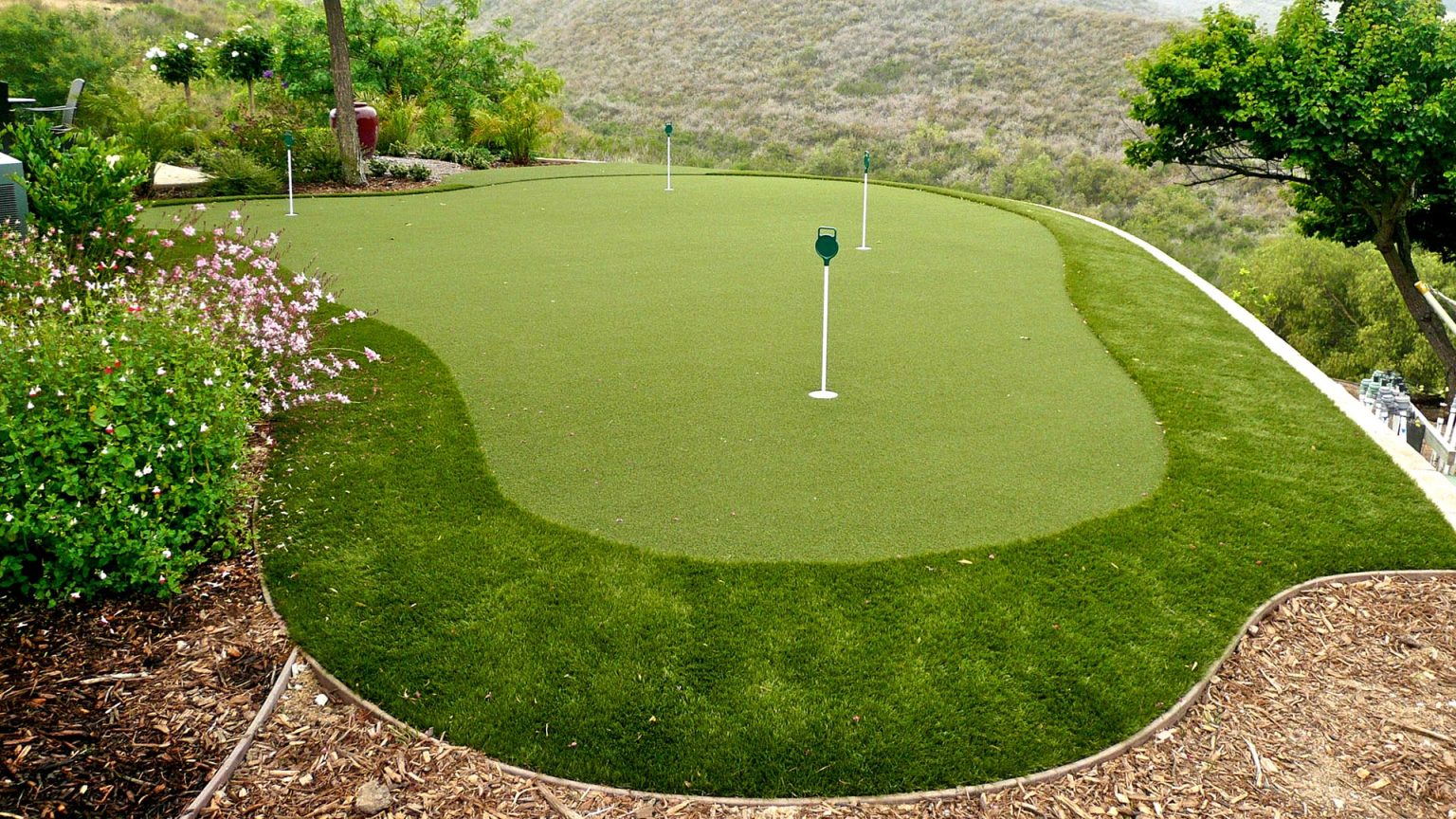 GreenMaster™ Certified Golf Green Installers in Orlando, FL
Anyone can technically install golf turf. However, only those who are GreenMaster™ certified can install Orlando putting green turf from SYNLawn. Our GreenMaster™ installers regularly undergo training to ensure that our standard of quality and precision is never lost. We start by smoothing out the foundation that your golf course will be placed on. This removes all bumps, be they rocks or other debris, that can cause inconsistent performance or tripping hazards. We also ensure that every panel of our turf is installed in the same direction so that you will never see a seam. We will work until you are fully satisfied.
Eco-Friendly Orlando Putting Green Turf
Customers who are conscious of the environment adore our greens. SYNLawn has long been dedicated to environmental sustainability. We collaborate with US soybean farmers to replace large amounts of the petroleum used in our manufacturing process with locally available ingredients like sugar cane and soybean oil. Our EnviroLoc+™ backing system alone is responsible for including more than 60% plant-based content and allows for a maximum drainage rate of up to 1,200 inches per hour. That way, you will be able to play even after a considerable downpour.

Our Golf Products
Browse our incredible selection of high-quality products to find the right synthetic turf for your needs.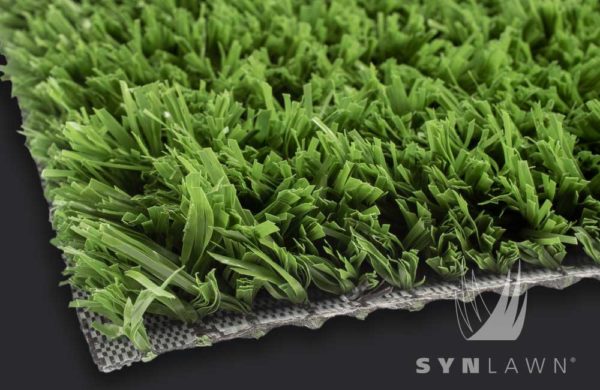 SYNRange Pro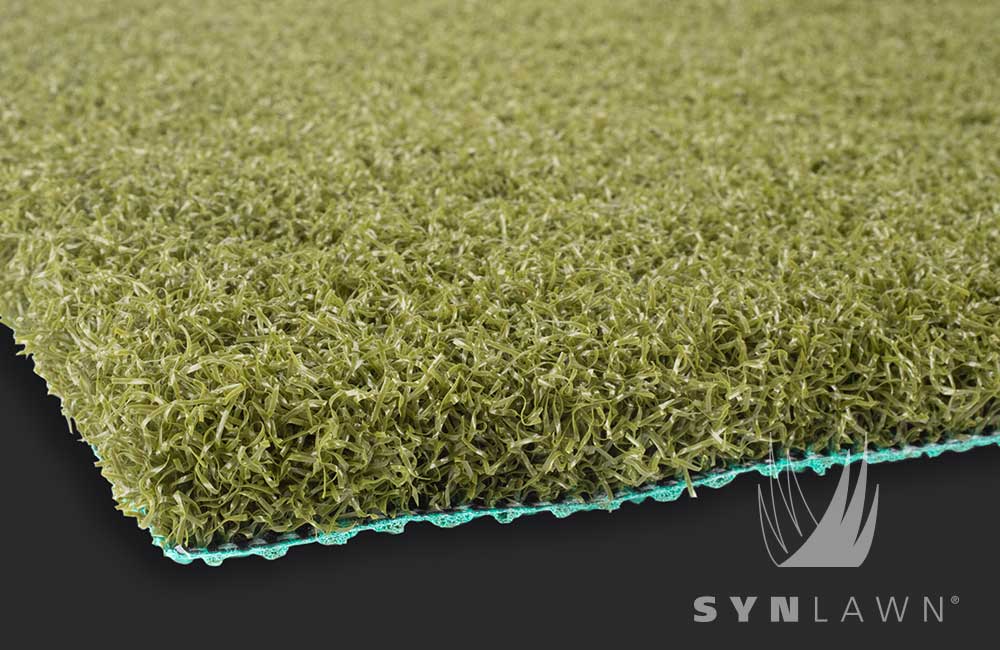 SYNLawn Classic Pitch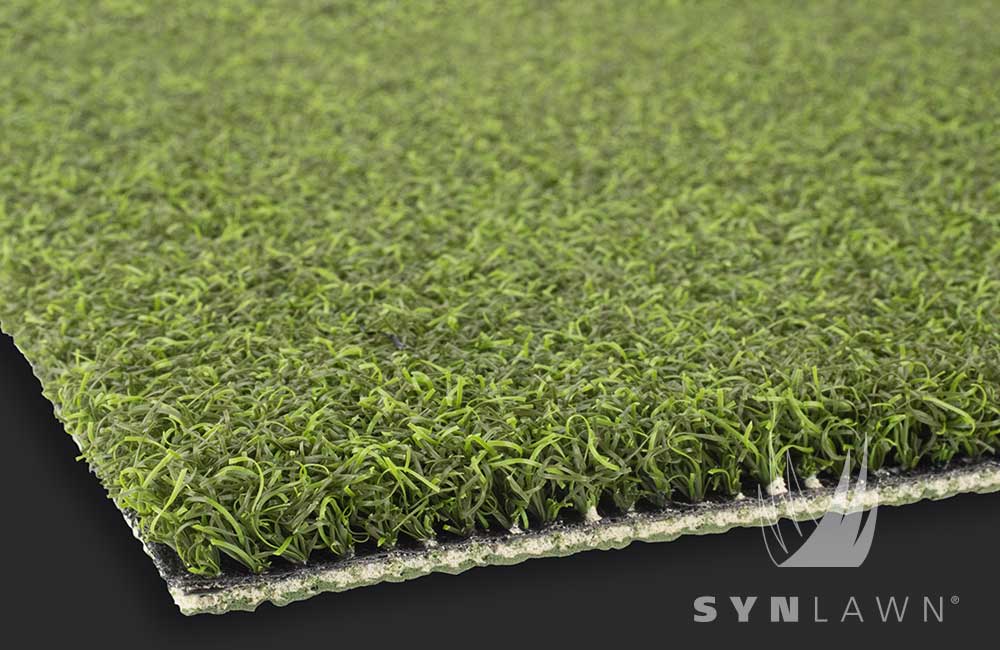 SYNLawn Precision Putt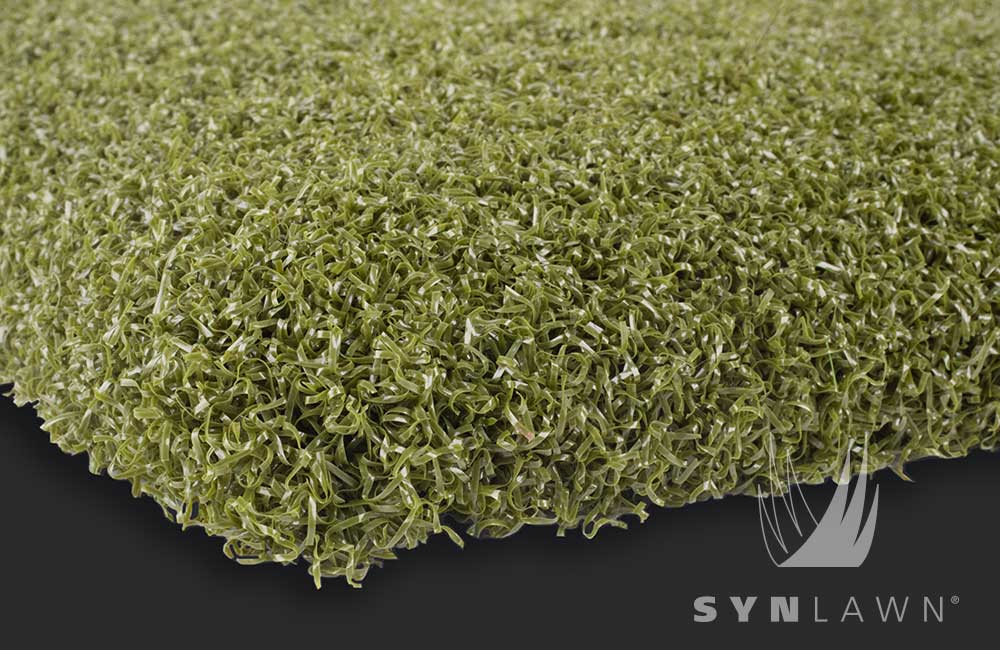 SYNLawn TEE Strike
View All Artificial Grass Products